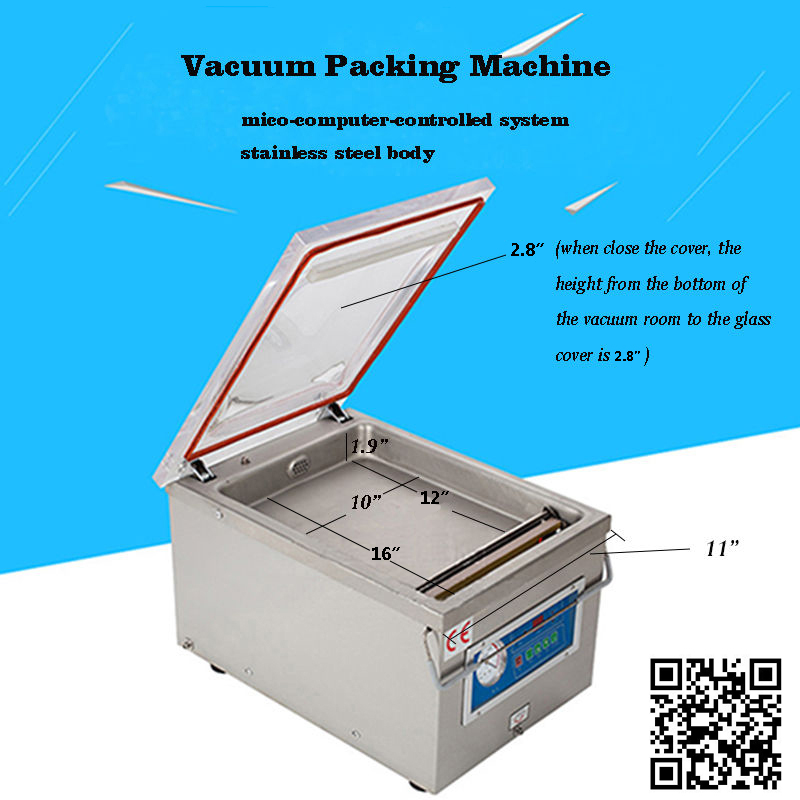 This model is newly designed product of my factory which not only contains the features of common models but also has new advantages. The machine body can be easily lift up so it is very convenient for daily maintenance. This machine can pack grain ( Food, local specialty, medicine, electronics, hardware), powder ( coffee, wheat), paste( ketchup, honey, seafood). The main principle is the air in bag is inhaled and the bag is sealed at the same time. This can constrain the propagate of organism, food oxidize and rotten which can prolong the valid time. Some loose products are easy to transport and store after packed.
1) The packing film adopts plastic compound film or plastic aluminum foil compound film.
2) The packaged production can avoid to oxygenizing mildewing, rusting, wetting and pro-long the reserve time.
3) The cover is transparent organic glass.
4) The user can see the whole packing process easily.
Packing speed

:1-3times/min

Voltage

:110V(If you need 220V, contact us)

Motor Power

:370W

Exhausting Power

:2.8L/s

Sealing Power

:700W

Weight

:35kg(77lbs)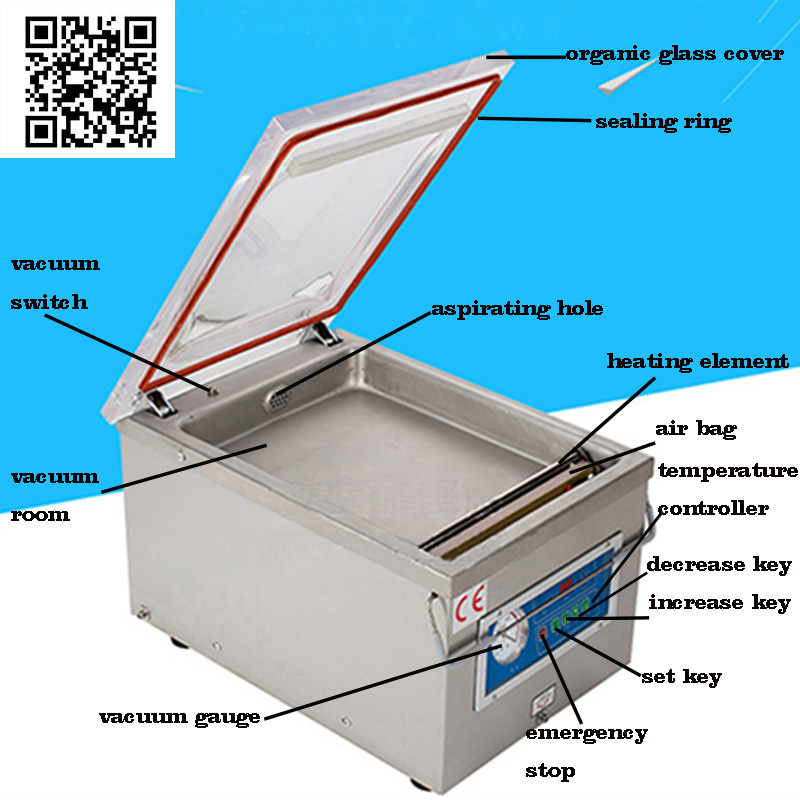 1).Air-inhale time
The Nixie tube indicates "___" means standby mode when open the machine
When dial the "Vacuum" button one time it will show original. Dial " Increase" or "Decrease" button to adjust the vacuum time. It will return again when dial "Vacuum" button.
2). How to set sealing time
Under the stand by state, Dial "Seal" button first and then set the needed sealing time according to dial "Increase" or "Decrease" button.
3). How to set sealing tempt
Dial "Sealing tempt" button to select the right level
4). Work process
Press the organic cover and the machine will work automatically after set all parameters on machine. Below are the main working steps: A.Inhale air B.Seal C.Tempt. retain 2 seconds D.Exhaust air E.standby mode. The machine can be fixed air inflation device, like nitrogen gas. The process is between A and B.
5).Emergency stop
When need to stop the working in advance or exceptional case happened, please dial " Emergency" key. The machine will stop to work at once.
Item Include
:
1) 1 Pc of Manual Book
2) 1 Bottle of Lubricating Oil
3) 1 Pc of Sealing Belt
4) 1 Pc of Spanner
5) 1 Pc of Teflon Cloth
6) 1 Box of Characters
7) 1 Pc of Fuse
Item included:
Vacuum Packing Machine (151020)
Item##

Description

QTY

Unit

151020

Vacuum Packing Machine

1

set