110V Soybean Grinding Machine
This series of splitter soya milk and dregs is a kind of new type processing machinery of soybean products, it can finish grinding and splitting under the revolution of the lower grinding wheel, filter screen and support of filter screen driven by high speed motor. It is easy operate and high working efficiency. All the spare parts touching the foods are made of aluminum alloy or stainless steel, its conforms is suitable for the company of soybean production factory.
1)Super power quality dynamo.
2)The size of the grinding can be adjusted.
3)Seperating slurry and dreg.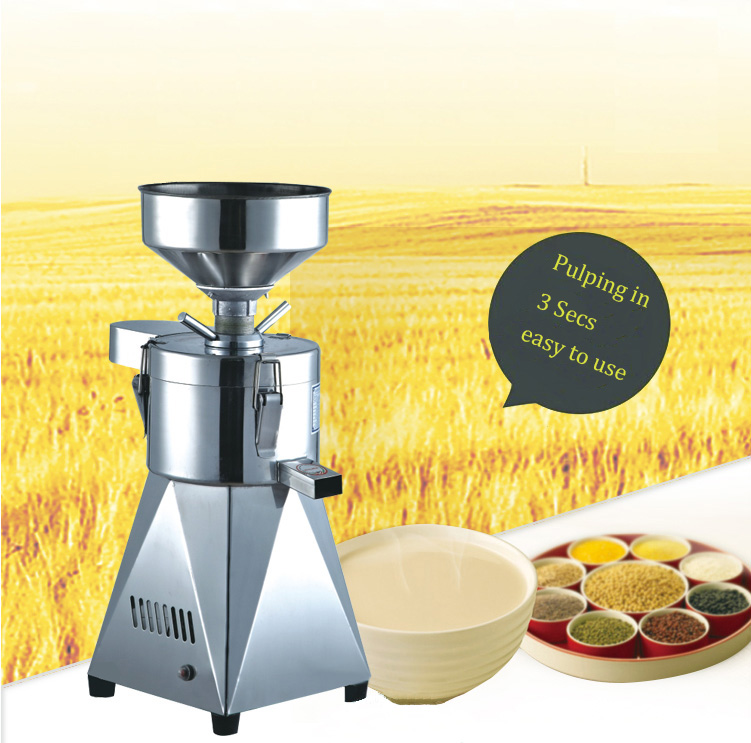 Voltage: 110V
Frequency: 60HZ
Weight:20kg(44lbs)
Power: 750W
Grinding wheel diameter: 100mm
Efficiency: 25-30kg/H
Speed: 2800r/min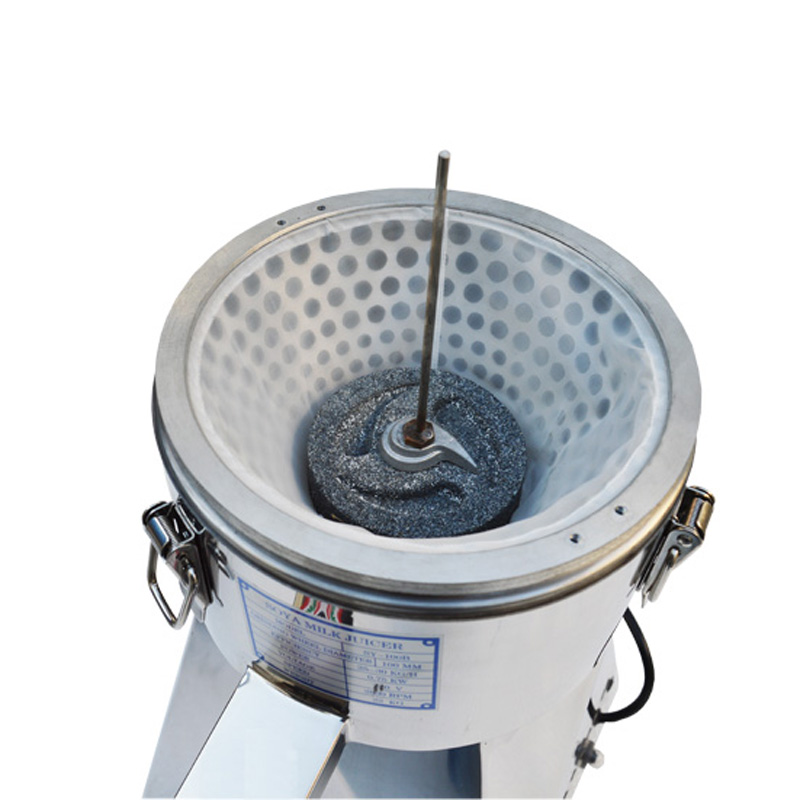 (1) Before start up, please check power voltage whether is fit for the machine standard or not. The voltage is not under rated power 95%, over or below, it will result in burning out motor or it can not reach the ideal effect.
(2) Try to operate: open up-cover to check up the grinding wheel, make sure grinding wheel runs direction comply with the arrowhead on the up-cover.
(3) Before milling, using water wash bean clearly and dip bean in water 4 hours. Start up machine run, turn on switch, pouring water properly, turn the handle under the hopper, then adjust upper grinding wheel and bottom grinding wheel clearance, hearing streamy sound is just well, and then pour beans into hopper and add proper water, it will take edible chroma from milling out well.
(4) After finished work, it is necessary to clean it up and it is not allowed to wash while still running. Forbidden washing while plug up, it will damaged motor.
(5) Stop running, unload the grinding bolt, then take out grinding wheel, filter net and filter bracket, then wash them respectively.
(6) Replace new grinding wheel when the old one worn out or it can not producing bean milk any more.
Item Include
:

1) 1 Pc of 110V Tofu machine
Item included:
110V Soybean Grinder (020285)
 

Item

Description

QTY

Unit

020285

110V Soybean Grinder

1

set